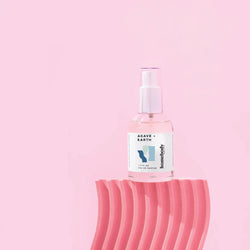 Agave + Earth Eau de Parfum
Agave + Earth is earthy, lush + botanical, like wet earth after a warm spring rain.
Notes of:
sweet agave • watery aloe • chrysanthemum • greenery • fresh earth • patchouli
Spritzing on an eau de parfum is the easiest way to feel oh so fancy 💅 Not only will you feel lovely from giving yourself a lil' finishing touch, but it sits pretty out on your bathroom counter or vanity, too ☺️
Homebody's eau de parfums are made with our tried + true blend of neutral grain spirits, DEP, benzyl salicylate + our (paraben- + phthalate-free!) premium perfume oils. Each eau 
de perfume is crafted by hand + sits in a  1.7oz heavy base perfume bottle with a white atomizer + clear cap.