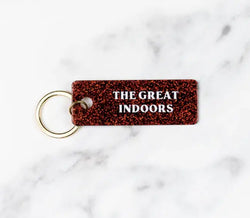 Great Indoors Keychain
When you have a person who's a proud homebody, show them some love with this Great Indoors Keychain! It's the perfect gift that keeps on giving: sparkly glitter to spice is a gentle reminder that enjoying the comforts of home doesn't make them a boring person. Home is where the heart is, and with this keychain, you can make sure their heart is always close to home!
.75" x 1.75" acrylic key tag with gold colored split ring. Made in USA.