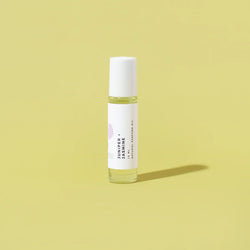 Juniper + Jasmine Perfume Oil
A scent that feels like open windows + fresh air.  Picture that first day of spring, when you can feel the winter gloomies leaving your body + being replaced by sunrays + birds chirping + the sudden renewal of life + cheerfulness deep down in your soul.

Notes of: pineapple • orange • peach • melon blossoms • juniper • cyclamen • jasmine • violet • musk

Smell nice even on the go! Homebody's perfume oils are perfect for keeping in your bag while you're out + about. Simply apply the roller-ball to your pulse points -inside elbows, temples + wrists-, sit back + wait for the compliments to come rolling in (pun sorta intended ☻)

The perfume oils are made with our holy grail oil trifecta of grapeseed, sweet almond + apricot kernel oils. Each perfume oil is handcrafted + blended with our premium (paraben- + phthalate-free) perfume oils into our recyclable 10ml glass bottle with rollerball + white cap.